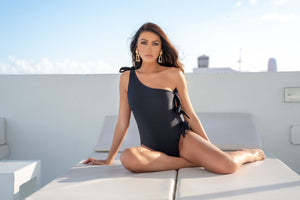 BLACK 3 PANEL ASSYMETRIC TIE SIDE SWIMSUIT
This chic black swimsuit is a style that will stay in your suitcase for years to come. Its the classic LBS!
It features a non functional 3 side tie design giving the illusion if tie bow without compromising on the snug fit. 
This is perfect teamed with a layered peplum skirts, offering more coverage only showing off as much as you desire.
Why not make monochrome statement in a black/white layered skirt? or add a pop colour? This is the perfect pool to party outfit! 
...& the perfect sleek piece to wear under trousers, skirts or shorts!
*Available in any colour! DM us!
THIS PIECE IS A SAMPLE FOR SALE.